Accessibility and Accommodations During COVID-19
Rutgers University is committed to providing an accessible and inclusive learning environment for everyone connected to the University. As events unfold due to COVID-19, the Rutgers community must still ensure the accessibility of web based information and courses as well as provide disability-related accommodations so that all students, faculty and staff can fully participate.

Rutgers Access and Disability Resources (RADR) and the Offices of Disability Services (ODS) are working closely with the administration, faculty, staff and students to ensure that accessibility is a priority as we move through these difficult times.
Resources for Students, Faculty, and Staff to Prepare for Accessible Academic Continuity during COVID-19
Student Accommodation Needs and Resources:
The student accommodations outlined in the Letter of Accommodations provided by the Office of Disability Services for summer 2020 are still relevant.  However, how they are implemented in a remote instruction environment may need to be adapted or adjusted and will depend on specific course platforms, content, and assessments.  We ask that everyone be as flexible as possible as these nuances are worked out. 
We have prepared two web pages specifically for students with disabilities: Receiving Accommodations Online and Student FAQ's for taking courses online. 
Students, if you have questions or concerns related to accommodation needs in a course, please reach out to your Disability Services Coordinator that signed your Letter of Accommodation or simply contact the Office of Disability Services at your Rutgers campus.
Students can also fill out our RADR Support Form, which will be directed to their campuses' Office of Disability Services if questions, concerns or issues arise.
Students with disabilities who have been approved for technology related accommodations such as assistive technologies (e.g., Kurzweil, Read and Write Gold, or screen readers) or adaptive technologies should try out their technologies with the new online course formats.  Our team has prepared Technology Information for Students Taking Online Courses.  Please visit this page for answers to Frequently Asked Questions.
If questions, issues or concerns still exist, students can go to our RADR Support Form and submit a request for assistance.  During this high volume period as everyone moves to the online environments, we will assist students as soon as possible.  
ODS Employees Wearing Favorite Face Masks during COVID-19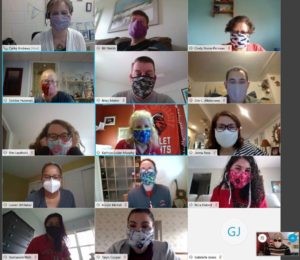 As courses are moved to an online environment, we have developed faculty resources to provide the most critical accessibility and accommodation considerations when moving courses, content and assessments from in-person to online formats in a constrained time frame.  The University has also created overall faculty resources as they move to the online environment.

Additional accessibility considerations may be required based on the specific accommodation needs of a student in their course(s). We have developed a faculty tips page for providing accommodations online, which will be updated as additional information becomes available. 
Faculty are encouraged to reach out to the student's Coordinator that signed the Letter of Accommodation or simply contact the Office of Disability Services at your Rutgers campus if you have questions or concerns related to a student's accommodation needs in a course.  
If a faculty member is in need of a reasonable accommodation based on a disability to perform their job, they should go to the Academic Labor Relations to find out more information about this process. 
We recognize that many employees are working to create resources that allow students to learn about your offices and services virtually or are trying to come up with creative ways that students might connect with you. Many of the same resources we have developed for faculty about creating accessible online courses also applies to the web pages, content, multimedia/videos that staff are creating. Refer to the Rutgers IT Accessibility Initiative for resources and contact information to ensure all Information Technology is accessible.
Employees who may require accommodations related to a disability for their job, please refer to the Office of Employment Equity's Disability Accommodations page for more information.